Christmas Lights Installation for Cedar City, Utah
A Christmas Lights Installation package from Everything Exterior includes everything you'll need to have the best-looking home Christmas light displays in your Cedar City area neighborhood. We offer custom designs and can light up as little or as much as you want. You can participate in the design as well as choose the bulb color(s) that you want. We can do roof lines, porches, doors, garages, trees, and roof pitches, just to name a few. Your lights will be completely customized to your house; meaning that they are cut to fit your exact lengths so that there are no extra lights hanging. Connection cords are also custom cut so that there aren't cords dangling unsightly. We also light up commercial buildings and properties as well as HOA communities and common areas.
Christmas Lights Installation
We cut wires and make custom connection cords so that day or night the lights look superb and there aren't any extra cords or lights hanging around. We use all LED bulbs which means they very rarely burn out and you won't see a surge in your electric bill. All of your lights will be connected to an automatic timer so they will turn on and off automatically with no effort on your part. We use a very unique patented clip so that all lights are perfectly spaced and straight.
Christmas Lights Takedown and Storage
Not only do we hang (aka install), maintain, and take down your Christmas light displays after the season, but we also store them for you in our climate-controlled facility for the off season. You really don't have to do anything except for look at and pay for the lights. Prices vary widely from $180-$1000+ and discounts are made for multiple year agreements.
Explore Christmas Lights Options & Get a Free Quote
We will present a bid to you with multiple options of light placement. You can choose just to do the roof line or add to it anything else you want. You can also have the lights for just one season, or you can sign a contract for multiple years to get a lower price per year. Although there are options, we have a simple process so you never feel overwhelmed with too many options.
Commercial C9 Christmas Light Strand
Our Christmas light spools and strands are perfect for illuminating expansive areas in your home Christmas light displays. The strands and spools, which range in length from 1′ to 1000′, are ready to use and include empty sockets. Strands offer choices for amps, wire insulation, and socket spacing, as well as UL-recognized components, and weep holes in the sockets for water drainage. Both indoors and outside can utilize the light strands. These strands can be cut to any length to fit your home or business perfectly. No one wants extra bulbs hanging of the edge or running of the side of the home.
Commercial C9 Christmas Light Bulbs
One of the most traditional bulbs is the C9 LED Christmas light with E17 bases, which is used to highlight rooflines and roof tops/pitches and throughout the holiday season. Additionally, interior Christmas trees and holiday mantel decorations can benefit from the addition of C9 LED Christmas lights' classic design. There are a wide variety of vibrant colors and faceted and opaque bulb finishes for C9 LED lights. C9 LED Christmas lights, which imitate the visible filament design of conventional incandescent Christmas lights, may be used to create a vintage-style light display while offering all the energy-saving advantages of LED technology. Each bulb is screwed into the line of socket individually, making any solid color or pattern of colors available. Some common color themes of Christmas lights include candy cane as red, red, white, white; gingerbread as red, red, green, green; or winter wonderland white, white, blue. Of course, the traditional all white Christmas lights always look good as well.
Commercial Led C9 Christmas Light Bulbs
The faceted form of our C9 LED light bulbs reflects a magnificent light pattern when placed next to solid surfaces and is highly popular in-home Christmas light displays. These bulbs give the traditional Christmas light feel, with all the benefits of bring and energy saving LED technologies. Aa stated above, color choices are endless and can be arranged in unlimited combinations.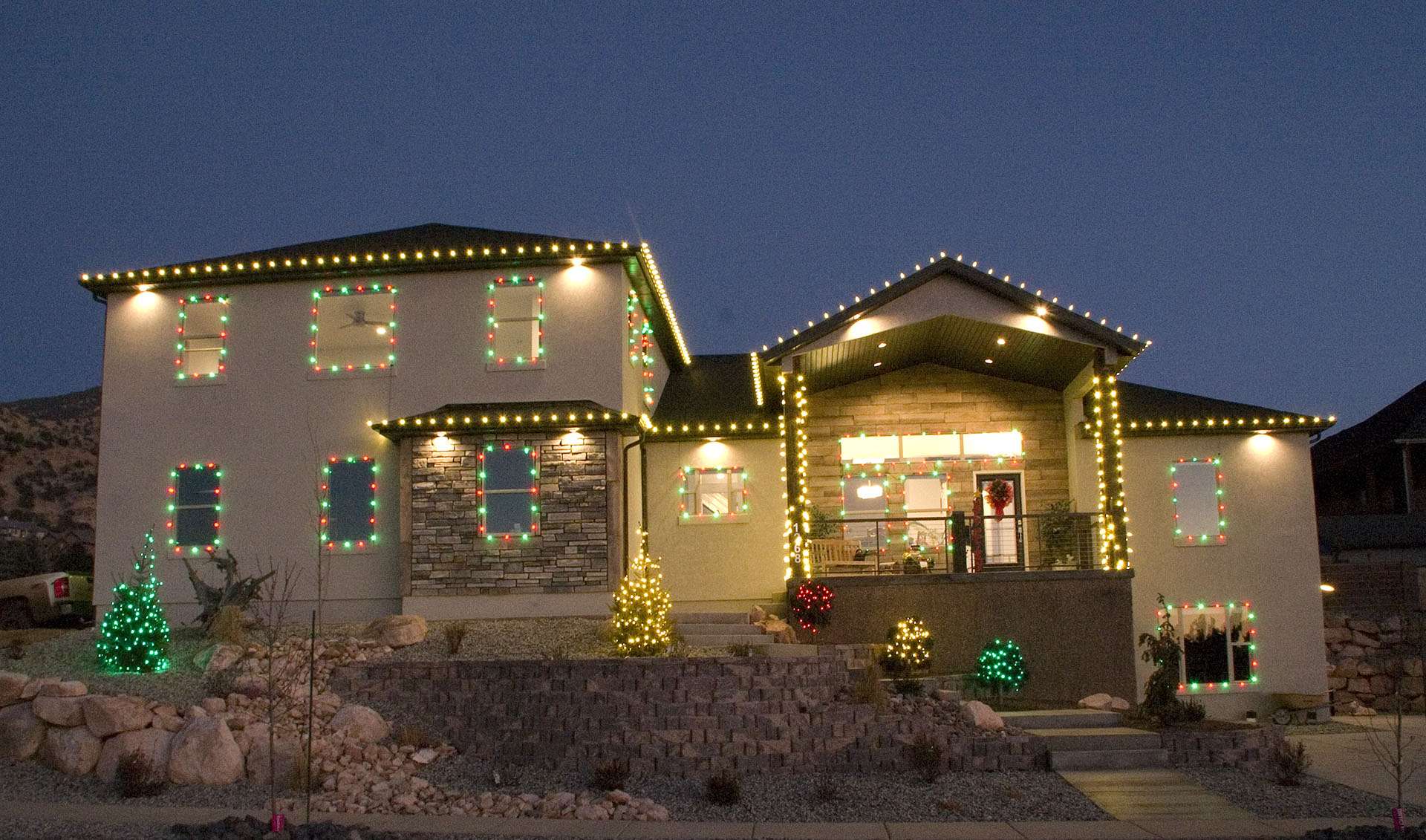 When Christmas Lights Installation Begins
Lights begin being installed in October. The week before Thanksgiving we set timers so that the lights begin turning on nightly so that any bugs can be worked out so that everything is perfect for Thanksgiving weekend. Timers run the display so no human effort is needed. We do perform inspections and fix any issues should anything happen during the season. Because lights are not attached via a permanent method to the structure, sometimes a big wind gust or a heavy snowstorm can necessitate some repairs.
Christmas Lights Takedown
Timers keep lights running through the New Year's holiday. On the next business day after January 1, we begin Christmas light takedowns. We have a diagram built and label each strand. The lights are then stored away in a tote in our climate-controlled warehouse until the next year when they will be installed again. You don't ever have to get on a ladder, untangle ratted Christmas light strands, or give up storage space in your home or garage. Out custom Christmas light package really is the WHOLE PACKAGE.