Why is Everything Exterior the best lawn care service in Cedar City?
Everything Exterior is not only the best lawn care provider in Cedar City but is also the best lawn care company in Enoch, Parowan, Summit, Kanarraville, and New Harmony. The best lawn care in southern Utah! The bar for lawn care is set by Everything Exterior. Local lawn care companies measure their success in comparison to Iron County's best lawn care service. What components lead to Everything Exterior being the best lawn care service provider?
The best lawn care office and shop
The landscape maintenance service you receive starts long before a lawn care crew steps foot on your property. Would you rather have a lawn care company that started their day in an actual facility where they were trained, equipped, certified or out of a backyard shed or storage unit? It may sound like a silly question, but multiple local lawn care companies operate out of the owner's home/garage. Trucks and equipment are parked on the street, front load trash bins are placed on the side of the house for the whole block to smell, and local neighborhoods have been turned into industrial zones. The best lawn care provider in Cedar City has a physical location that you can visit. There is a lawn care training course, yard care products testing ground, and lawn clipping recyclers (cows). Lawn care equipment and landscaping trucks are parked inside and maintained to the highest level so only the best yard care equipment ever touches your property.
The best lawn care employees
A lawn care service business depends entirely upon the employees performing the lawn care service. In a world where everyone is hiring, what does a stereotypical landscaper in Cedar City look like? Long hair, a cigarette in mouth, a few tattoos, and a bad attitude? For many of our landscape maintenance competitors you're not wrong. The best lawn care service in town doesn't allow tobacco in any form, vaping, alcohol or illegal drugs to even be a part of the employee's lives. Not only while working, but always. This is the type of lawn care employee standard that sets Everything Exterior apart from the rest of the pack. Imagine lawn care technicians with neat hair, no tattoos, no tobacco/drug use, and a great outlook on life. The only thing that distinguishes these lawn care experts from missionaries from the Church of Jesus Christ of Latter-Day Saints is that we do allow neat facial hair and don't require ties as they are unsafe in the lawn and landscape industry.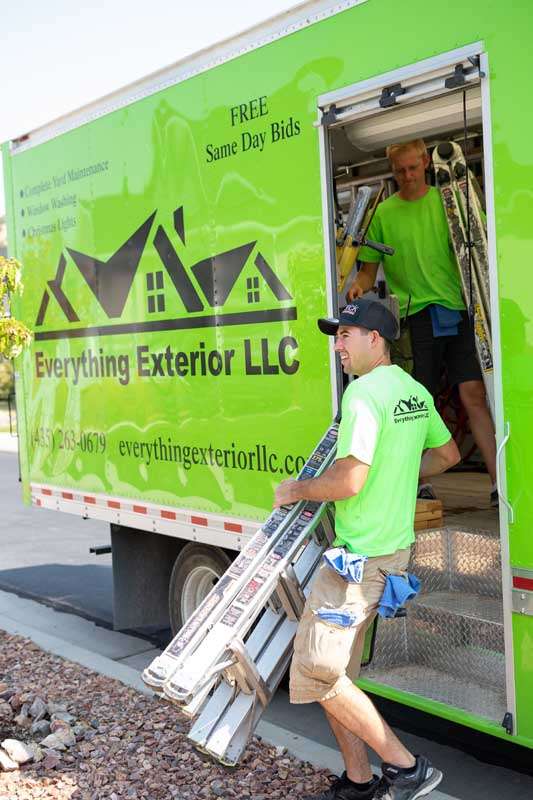 The best lawn care products
Most landscape companies buy whatever products they can get for the cheapest. There isn't anything special about the products and they only buy and use them because that is what other lawn care companies do. The best lawn care company doesn't do this. We have a research and development department. We attend the biggest industry trade shows and expos to see the latest and greatest. We gather everything that we can, and then we test it. Cedar City's lawn and yard needs are much different than the rest of the country. The best lawn care company in Cedar City, Utah doesn't use the same products as companies in New York, Florida, or Illinois just because that's what Home Depot sells. The best lawn care company uses products that have been tested and have been proven to be the best products.
The best lawn care trucks
Would the top lawn care company have old, beat-up, nasty-looking pick-up trucks? No! If it were truly the greatest yard care company, you would be able to tell just by looking at their trucks, right? While newer, nicer, and shiner trucks have a good visual appeal, the parts that matter are safety, reliability, and the mentality that accompanies such trucks. The most effective, efficient, and planned with a purpose trucks lead to the effective, efficient, and planned with a purpose lawn care program.
The best lawn care company culture
The best service, lawn care or any other, will be done by the best servicer. You can't carry clean water in a dirty pot. The best yard care service starts with hiring the best people. In today's market, this requires an extensive framework. It requires a "culture" of working for more than just a job. The best lawn care provider's mission statement isn't about mowing lawns, it is about creating a workplace with constant inspiration to seek personal growth through hard work and daily challenges, leading to individual and team perfection. The end goal is to become advanced individuals sufficiently resourced to improve the quality of life around them. This culture is the single biggest factor that separates the top-notch lawn care service of Everything Exterior from the rest of the local lawn care companies.
It isn't a coincidence that the Cedar City lawn care company with the custom-designed shop and office, the best employees, the best products, the best trucks, and the best culture are also the highest-rated, most efficient, best value lawn care service around. Ask Google, check on Facebook, or ask your neighbor why Everything Exterior is Iron County's best lawn care service.