It's 4:25 and the alarm clock rings. Time to get up and get to the gym. After a good workout, breakfast, and a shower it's time to be at the shop a little before 7 because crews leave the shop at 7am sharp. Don't be late, or else plan on putting a $5 in the late jar. Company culture dictates punctuality.
7:00: If you park in the west stalls, be sure to back in, it's an unwritten/unspoken company tradition. Use your FOB to enter the door the shop door. Fill your water, use the bathroom, lather on some sunscreen, it's going to be a scorcher. Take a peek at the yesterday's truck inspection, see if you earned any green or blue tickets, and see how you are doing on the company scoreboard. Make sure if you have a yellow slip you are prepared to make things right. Be sure to back your crew leader out as he backs out of the shop. Load up the first job on the tablet, roll the windows down and prepare to do work!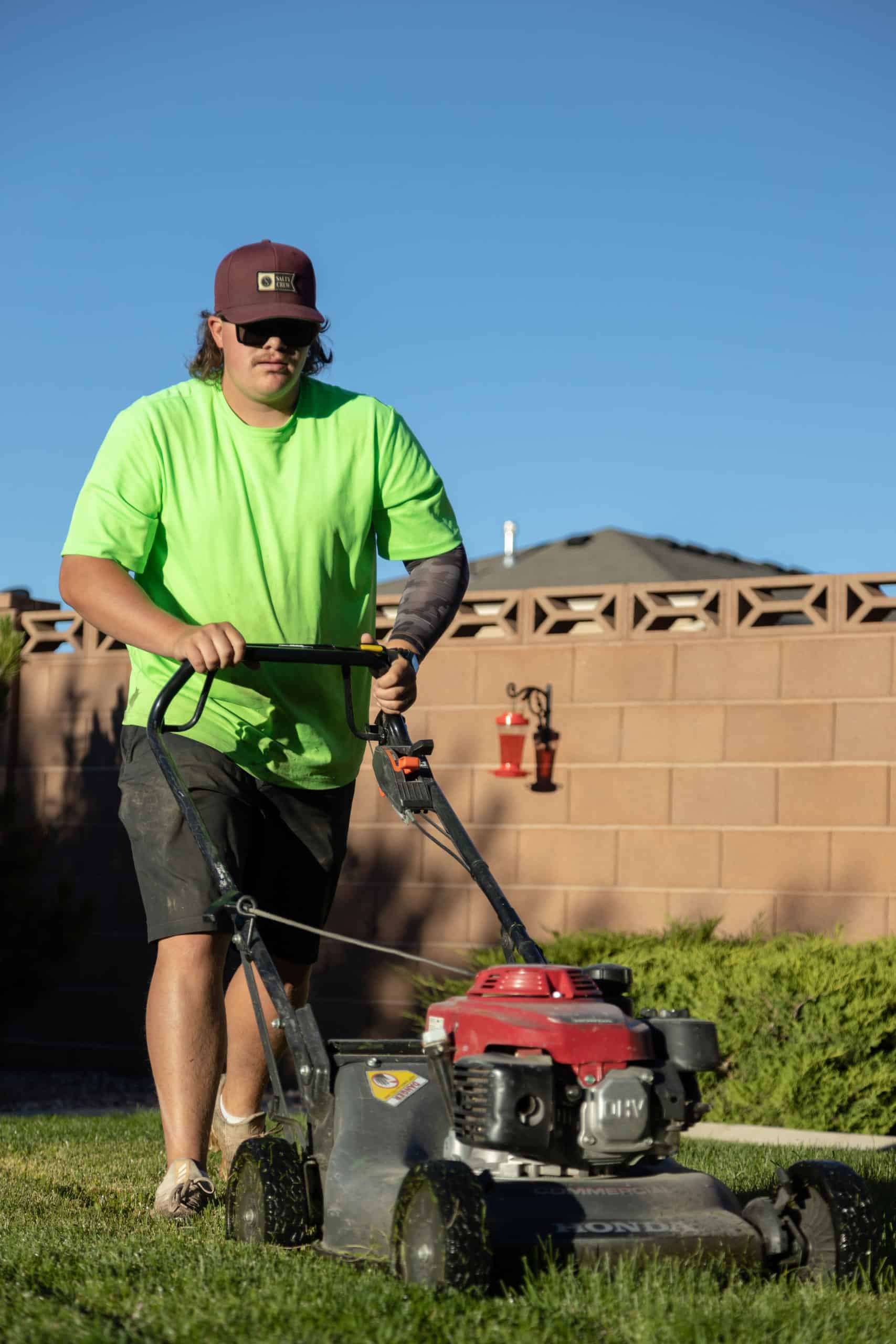 7:03: What's the first job and what's the gameplan? Budgeted time is 22 minutes, can we beat that while leaving the yard immaculate? Sure we can; I'll start with the primary property check if you want to start trimming. I'll mow starting in back and the first one done can blow. Be sure to clean up more than just our mess. The Everything Exterior Experience is the norm. The client should feel "Wow" when they see their yard tonight. I hope they enjoy a lemonade while they sit on the back porch.
7:26: We are not a lawn care service company. We are not a lawn mowing service company. We are not a yard care service company. Our mission is to create a workplace with constant inspiration to seek personal growth through hard work and daily challenges, leading to individual and team perfection. The end goal is to become advanced individuals sufficiently resourced to improve the quality of life around us. Yes, this leads to great lawn care service in Cedar City, and the most professional window cleaning in Iron County, but those are merely side effects.
9:17: Time for a snack. Always drink between jobs. Start Job. Check and weed the beds. Edge the grass. Trim the lawn. Mow the turf. Empty the bag of grass. Cleanup. Smile at the neighbor. Repeat.
10:03: It's warming up. Time for first lunch. Glad I learned at appreciation night some great ideas for snacks and lunches. Today I've got some PB&Js with some jerky and fruit. I'm going to need some calories to push through this heat and provide Cedar City's best yard care service.
12:47: Time for second lunch. The company is bringing us some Jimmy John's for winning last week's incentive.
1:59: 3 jobs left. You trim and edge the grass and I will do the yard care. We've got a lot of grass in the truck. The cows are going to be happy with the brute full of apples we cleaned up today.
2:32: Route is done. We're heading back to the shop. I'm tired. There goes Cedar Lawn Care, if only they knew how much better the pay and culture are. If only they had the vision.
2:41: Looks like we're the first crew back. Let's dump the grass right to the cows. They sure get excited to see us. Look, the roll-off has been emptied, it's going to be a lot easier to dump our trash today!
2:54 I'm beat! Today was great, we killed it! We did 9.25 budgeted hours in just under 8. Time for a shower and some food.
3:50:  Feels good to be clean. Too bad my tan washed off. Time for a power nap. 
4:44: Get the grill warmed up, the wife will be home soon, and I want to have dinner ready.
6:30: Time for appreciation night. We're learning about mortgages tonight. It's been great owning a home and now it's time to buy an investment property. I have come a long way in the past 2 years. I've raised my credit almost 150 points since we learned about that. My debt-to-income ratio is down. (I even know what those things mean now!) I still can't believe the numbers when I see my savings account. Hard work, day in and day out really pays off.
8:40: Time to put my feet up and relax for a minute. I sure am blessed.
9:00 Lights out, another great day in the books!